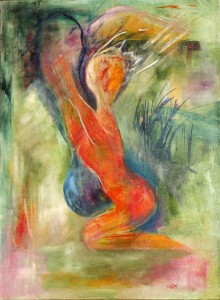 A women's rite: wrapping a towel
about your plum-colored nipples
and supple belly.
Time flashed ahead to wrinkled arms,
freckled hands – you and me.
Mothers, aged, longing for safety,
stolen, just before
the ending.
I powdered you today –
Eyebrows, brown-toned
streamlined, just so, with eyes,
mirrors of love.
Tears welled with images of women,
caretakers, healers throughout
time, assisting their mothers.
My Mother.
In the fitting room I put her paper-thin breast
in a bra and cried behind the curtain.
A last rite of passage.
Today I dust your breasts.
Tomorrow my daughter's hands
will lift me gently, lovingly, patting
me dry one last time.
I glimpsed ahead in time.
2010
---