Blog
---
The crown of your head silver and white, I glimpsed as you lay next to me.  My mother had insisted I 'do' her hair, the strands straw-like at times just like yours. Now my partner of almost 20 years; this aged aspect not quite expected but, alas, true.  We tease. call it OA (old age) as we watch change in progress.
In pursuit of the perfect coffee shop on vacation, we land and you sit across from me addressing post cards. This is a nice custom, connecting while away from the stress of work. Your body slim by many OA standards, stays the same even with the wrinkles and sagging skin, like mine.  But, those blue eyes powder like your sweater compels me to you.  Your companionship is treasured during these fermenting times of today and, hopefully, tomorrow.
---
This is our third visit and Lake Tahoe, you are still here.  You glow like glass reflecting cobalt blue, aquamarine, vermillion seen like nowhere else.  You are comfort, like a smooth skin, skimming over my body, washing away the powerlessness of realities one cannot face.  I'm grateful I can surrender to you.  Breezes bounce off my face and the pounding of gentle waves remind me that sound can be a friend.  People talk of healing as if the world walks around with gaping wounds.  This may be true but something I have not wanted to face.  I help others and maybe it is their process of healing.  Now it is my turn and the discomfort is unbearable.  Maybe healing will not happen.  This is a manner of thinking that is a stranger who crept in the night and stabbed my … Read More »
---
So little, vulnerable, unable to grasp my thumb, no Babinski clutch.  Then we knew: you were injured.  Your brain impacted at birth, maybe.  Or you carried a gene, like the uncle's child we never knew about.  I had prayed as a young girl that all of my children would be "normal."  Several nieces and nephews had already been born, and I said this prayer after I recited each of their names.  I ask now, 'How could that be?' True. I had been passing on my way to school a young boy sitting at his front door with an enlarged head.  Perhaps that image had precipitated that prayer.
Today you are 50 and I may be seeing you for the first time.  We are still attached as one; I have been your voice for all these years.  Now we converse.  We talk.  … Read More »
---
Our halter tops reveal breasts
peeking after a drawn out winter
A hundred degrees incites groans
in spite of the earlier drought of sunlight
You move past me, ducking back
to touch, even with the stickiness
Our tuna salad at the campsite
reminds us of Cape Cod lobster
We ran on the burning sand there
romping in the giant waves
laughing, at times bobbing out of sight
That freezing cold Atlantic embedded
in our skin lingers now in the Pacific
It's different here.  We're the only ones
Lots of room just to dip
People rarely venture out
Too many warnings of undertow
Last week I wanted to drown
This fireside changed my mind
---
You swoop in again and again
trying to eat the babies
Who gives you the right
No excuses about the chain of life
Bigger birdies eating smaller birdies
They fight back, you know
Mama birdies diving, diving at you
I saw them.  They were brave
To take you on as you chatter about the cycle of life
I'm not buying in
You ate my baby
Fuck you
---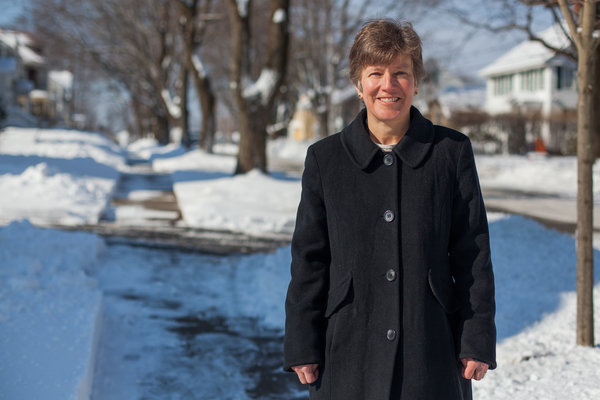 If your mouths are dropping to the floor, don't be surprised or feel you are alone. Many of us scoffed at the idea of embracing gay and lesbian marriage as achievable in our lifetime. As activists in the lesbian, gay, bisexual, and transgender movement in Boston, MA, we focused on a gay rights bill that addressed discrimination in housing, the workplace, and everyday living. We shifted at one point to the rights of gay and lesbian youth who were being forced out of their homes or held captive after parents found out they were gay. Dialogue in gay newspapers and other forums involved heated discussions introducing marriage at attainable. Many of us did not agree that emulating what was often a failed institution was in our self-interest. Many of us had already been married and did not want any part of … Read More »
---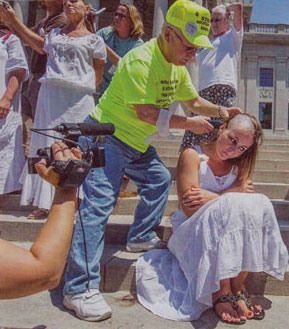 Larry Gibson, founder of Keeper of the Mountains, participated in a protest against mountaintop removal mining by shaving the heads of women who wanted to make a statement about their concern and outrage against the occurrence of bone cancer and the "poisoning" of their children. They call themselves the Queens of Appalachia taking on "King Coal." Donna Branham, Tori Wong (above), and Paula Swearengin had their heads shaved and were featured in the November/December 2012 issue of Sierra Magazine.
After listening to both presidential candidates discuss the use of coal as a continued source of energy in the debates, one could not help but wonder what these courageous women were thinking as they continue to advocate for the elimination of mountaintop removal and strip mining in West Virginia.
---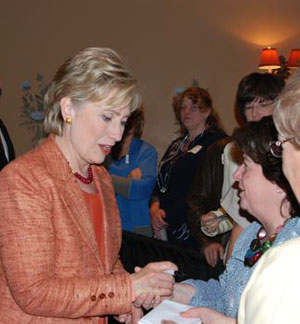 Secretary of State Hillary Clinton Wants New Opposition Movement for Syria
In an effort to "reshape" the opposition action in Syria, Secretary of State Hillary Clinton organized a meeting in Doha, Qatar to reach for new leadership.  The meeting was attended by hundreds of opposition representatives.  She stated that the Syrian National Council should not be viewed as the leader for change.  She called for a new coalition which includes the council but also includes those who reside inside Syria and others who have established legitimate forces.  The Council has failed to represent Alawites who are the highest numbers in Syria, as well as Kurds and Christians.  She called for an organization that would speak to the needs of all Syrians.  Past efforts of this kind have failed and it is not expected that a task of this nature will be … Read More »
---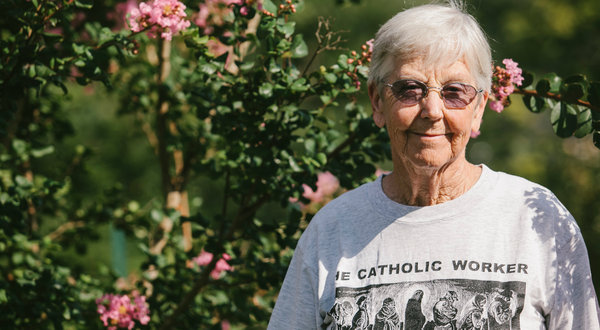 Eighty-two-year-old Sister Megan Rice has been a peace activist who has been arrested many times for her acts of civil disobedience and antinuclear protests. She and two male activists accomplished a huge security breach when they got through to an inner sanctum of the US storage of nuclear parts and fuel. On July 28, they broke into the Oak Ridge nuclear reservation in Tennessee and splashed blood on the enriched uranium parts to earmark their entry. The facility is valued at over almost of a billion dollars' worth of arms with guard towers and other elaborate security measures. In spite of government's efforts to lock down nuclear materials as a precaution against atomic terrorism, the activists' theft proved to them to be "no more challenging than a romp in the Tennessee woods." Sister Megan Rice has spent much of her life … Read More »
---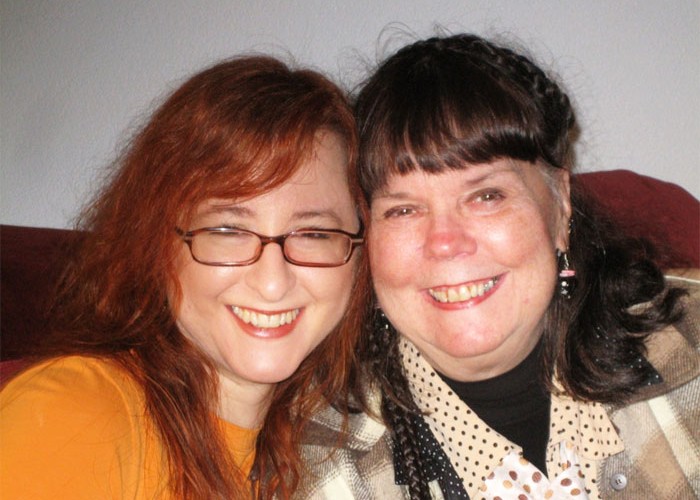 My friend died. She was my writing buddy. Three of us met in my living room. We always sat in the same spot, with the coffee table between us. She sat across from me and next to Melissa. She called herself Zinn. They brought yummy stuff, and I supplied the tea. Zinn liked caffeine to keep her going. And go she would.
Her favorite thing to bring was pineapple. So now I'll never eat it without thinking of Zinn. The colors of the food sticks out in my mind: ochre hummus, green cucumber, red peppers, blue berries, maroon berries, white and yellow cheeses. All served with specialty crackers and Melissa's home-baked goodies. We took turns reading a piece or two. Sometimes I played a song of mine on my guitar. I was critical of my singing, but they were patient and … Read More »
---